Commercial Concrete Services
CT's Premier Commercial Concrete Contractor
---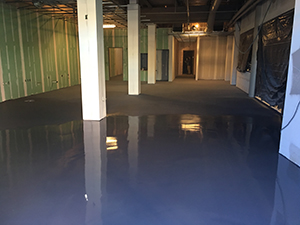 Think of the last time a commercial space blew you away. Perhaps polished floors, huge windows and elegant light fixtures come to mind. Or, perhaps it is a highly organized manufacturing space with no-skid, easy-clean floors and lots of space to get the job done. Whatever commercial space you're thinking of, our experienced team at Jason Robert's Inc. can help you start that dream from the ground up. We have over 25 years of experience and, over that course of time, have developed our own concrete systems using our knowledge and understanding of each and every material as well as the planning and building processes. We've helped hundreds and hundreds of people in Connecticut build the floors of their dreams and we'd love to help you too.
Have a vision of the commercial space of your or your business' dreams? We can make it happen. As mentioned, because we create our own materials, we can customize any part of the process for you. Our current commercial options include: polishing, epoxy, overlayments and concrete repair projects. If you're not sure exactly which term matches to your vision, don't worry. We know that one of the best ways to create your dream floor is by simply sitting down with you and laying out all of your options for materials, design and budget. We offer this consultation completely free of charge because we believe you deserve to have all of the information you need to make the best decision for your situation — without having to worry about paying for asking.
We pride ourselves on featuring flooring systems which provide durability, safety, functionality and beauty, so homeowners don't have to compromise one for the other. We also "do it right the first time" by eliminating floor failures that would cost you expensive do-overs in the future. When you work with Jason Robert's Inc., you become part of a team of highly trained professionals who are committed to getting you the best results possible.
We would love to help you fix up your concrete spaces. Just give us a call at 203-876-1152 or email [email protected]. We look forward to working together!
Request a Quote
Jason Robert's Inc. has a full staff of Estimators and Consultants eager to help you with free information regarding a concrete restoration or resurfacing project.
CONTACT US TODAY