Pool Deck Installation & Repair
CT's Premier Pool Deck Installation & Restoration Specialist
---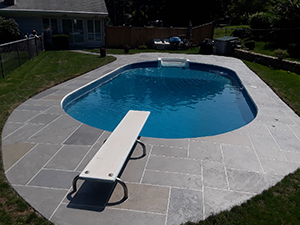 What says summer fun, family and friends more than a swimming in a pool and lounging on the pool deck? With summer just a few months away, there's no better time to get your pool deck in order than right now. Don't be left envying your neighbors' deck — now is the time to contact a highly qualified, trusted professional to make any changes so you don't miss a beat once summer comes. This where we come in. If you need a dedicated team of professionals to get the job done with excellent results, look no further.
Here at Jason Robert's Inc., we take great pride in our concrete and resurfacing abilities, work ethic and overall customer experience. We've been in the business of helping both residents and commercial owners create their perfect spaces for over 25 years. We are experts in the pool deck industry; we've performed over 1,000 pool deck repairs, pool deck restorations and pool deck installations! Our team comes equipped with all the necessary tools and building knowledge to help you create a pool deck of any size or shape. Once installed, we also offer a wide range of finish options and add-ons, such as cantilever or seamless concrete coping.
Don't know where to start when considering a pool deck repair, restoration or installation? Don't worry. As always, our experienced staff is available for consultation before the start of the project. They can help you decide between different materials which may best suit your area or aesthetic, customize the design based on your dream look and help you plan a budget which best suits your individual needs. Our entire process is designed with the client in mind, from beginning to end. There are no limits to how creative you can be with a design, as our team is exceptionally skilled in material use, design and building.
Just give us a call at 203-876-1152 or email [email protected]. We look forward to working together!
Request a Quote
Jason Robert's Inc. has a full staff of Estimators and Consultants eager to help you with free information regarding a concrete restoration or resurfacing project.
CONTACT US TODAY