Epoxy Flooring Installation
CT's Premier Epoxy Flooring Specialist
---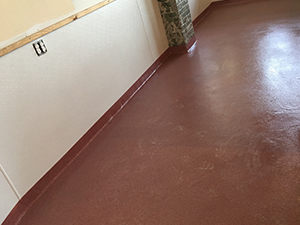 Looking for a way to increase the longevity and improve the look of your concrete flooring? If so, then epoxy floors may be the perfect solution for you! At Jason Robert's Inc., we have over 25 years of experience with concrete systems, meaning your flooring is in good hands with us! Here are just a few of the options you can have to turn your concrete flooring into epoxy floors:
Neat. This choice uses a multilayer epoxy system with a urethane topcoat. There are limitless color options, allowing you to choose the one which best suits the commercial space. The neat choice is ideal for garage floors, basement and static-sensitive areas.
Tri-Coat. This option utilizes a multilayer epoxy system with a nonskid additive and urethane topcoat. Again, there are limitless color options. This one is best suited for an environment that demands a nonskid surface, such as the interior floors of a home.
Flake. The flake choice involves a multilayer epoxy system with a broadcast of highly customizable flake material. This is ideal for hiding imperfections in concrete surfaces while maintaining a clean aesthetic. Many consider this the economical option for garage floors, storage rooms and shed floors.
Quartz. This option involves a five-layer epoxy system that integrates colored ground quartz. This process creates a highly durable, antimicrobial, nonskid surface with limitless color and seamless cover base possibilities. Quartz flooring is most commonly utilized in food preparation areas like kitchens and high traffic areas like hallways.
We have other options as well, including urethane cement, amongst others. Please contact us for more information about how we can help you with your concrete spaces.
Just give us a call at 203-876-1152 or email [email protected]. We look forward to working together!
Request a Quote
Jason Robert's Inc. has a full staff of Estimators and Consultants eager to help you with free information regarding a concrete restoration or resurfacing project.
CONTACT US TODAY