Commercial Concrete Repair
CT's Premier Commercial Concrete Repair Specialist
---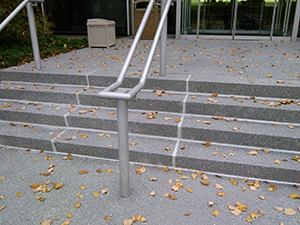 Do you have settling or cracks running through your concrete? If so, you need to see a concrete repair specialist right away. That's where Jason Robert's Inc. comes in. We've been in the concrete restoration business for over 25 years and have helped hundreds of people get their concrete spaces back to their original state. Not only have we worked with concrete for that long, but over that time, we also developed new concrete systems. Our insider knowledge means that we understand the materials — strengths, benefits, performance qualities and so on — better than others in our industry. We truly know how to best use concrete systems to solve design or construction dilemmas that our clients may be facing.
We understand that assessing or describing the flaws or cracks in your concrete may be a tricky thing to do. Don't worry! We love talking concrete and would be glad to hold a consultation face-to-face so we can assess exactly what is going on, what the damage is and how best to go about fixing it. We specialize in crack filling, spall repair, salt damage and settling. Even the toughest cracks don't stand a chance against our cutting-edge repair epoxies!
Did you know that concrete settling is the leading cause of insurance claims related to concrete? It can cause a lot of damage and even create tripping hazards. We can easily come in, remove the settled concrete, address the issue, repair then repour. We only use the best materials on the market and are prepared to tackle any concrete restoration or repair project, be it vertical or horizontal, structural or non-structural.
We would love to help you fix up your concrete spaces. Just give us a call at 203-876-1152 or email [email protected]. We look forward to working together!
Request a Quote
Jason Robert's Inc. has a full staff of Estimators and Consultants eager to help you with free information regarding a concrete restoration or resurfacing project.
CONTACT US TODAY