CT's Premier Concrete Installation Specialist
---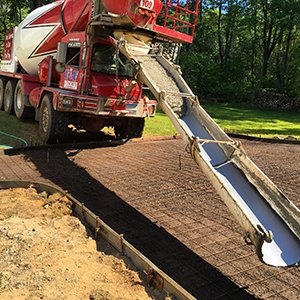 From walk ways and patios to pool decks and walkways, the dedicated team at Jason Robert's Inc. can perform any and all of your flat concrete work needs. Many people turn to concrete for its reliability and longevity — it lasts a long time and doesn't wear down or change over that time. That means that the concrete flooring you may choose today will be just as beautiful in a few years' time. So, whether you're looking for something small or large, straight or curved, plain or designed, the professionals at JRI have got you covered.
When we say "covered" we mean it. From the very beginning, we aim to do the job right the first time. We help every client eliminate floor failures that may cost expensive do-overs later on, making sure that once the flooring systems are complete, they stay that way for a long time to come. We can also stand behind our concrete flooring's high performance, longevity, uniqueness and beauty because we manufacture all of our own flooring systems. This means that not only do we know every aspect of the product, but we can also both create anything you'd like and make sure that the design really does fit your space and structural needs.
Of course, because we make all our own materials, we also have the equipment to make any of your design dreams come true. We can accommodate any shape including round and curves, as well as more extensive space modifications, such as excavation, compaction, forming and pouring. Of course, we can also help with concrete restoration and concrete repair, as well as any stamping design work within the concrete overlayment realm.
We would love to help you with your concrete spaces. Just give us a call at 203-876-1152 or email [email protected]. We look forward to working together!
Request a Quote
Jason Robert's Inc. has a full staff of Estimators and Consultants eager to help you with free information regarding a concrete restoration or resurfacing project.
CONTACT US TODAY